Digital Radio Package
Description:
PSN Digital Radio offers government agencies and nonprofits the ability to deliver 30-second audio public service announcements (PSAs) and digital banners to consumers in a specific geo-targeted area across all of their digital devices from computers to smartphones and other mobile platforms. Placement is guaranteed via the leading music and digital audio content providers including major market radio stations and networks such as CBS Radio, Intercom, Univision, Entravision, Radionomy, Mixcloud, SHOUTcast, and many more.
This program is available in every state and provides up to 1.5 million gross impressions 18+ over a 2-3 month flight, depending on the state.  Audio spot and web banner production are available for additional fees. Multiple spots may be rotated in the same program or flight.
MCAP Rate: $10,000.00
Commercial Rate: $20,000.00
Content Specifications:
Radio spots should be available in 30-second lengths. Digital Web bannersshould include the following primary banner size in a static format: 300×250.
Content Production:
Audio spot production is available for an additional fee and includes professional voiceover talent, recording, editing, and music. All talent and music licensing are provided for unlimited use in perpetuity.
MCAP Price: $1,500.00
Digital Web Banner Production:
Includes the production of the following primary banner sizes in a static or animated format: 160×600; 728×90 and 300×250.
MCAP Price: $1,500.00
Services Include:
Three (3) month statewide campaign 

Thirty (30) second spot

Bonus of up to 10% banners (150,000 banners) – 300×250 format

Click-through rates monitored and reported

1.5 million guaranteed impressions 18+

Final report with campaign metrics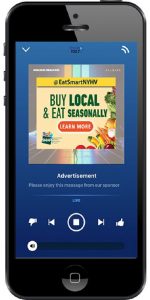 Pricing terms and placement are subject to approval by the media partner based on location, inventory and message approval.