PSN Digital Radio

PSN Digital Radio  offers government agencies and nonprofits the ability to deliver 30-second audio public service announcements (PSAs) and digital banners to consumers across all of their digital devices from computers to smartphones and other mobile platforms. Placement is guaranteed via the leading music and digital audio content providers including major market radio stations such as WTOP, radio networks such as CBS Radio, Intercom, Univision, Entravision, Radionomy, Mixcloud, SHOUTcast, and many more.
How It Works
Your PSA message is delivered to the public while they are listening to streaming online music and digital content at home and on the go. The digital audio program provides guaranteed campaign outcomes using both digital audio PSAs and banners that appear on the mobile device. Audio-only programs are also available.
How It Targets
Messaging can be targeted to audiences by unique identifiers:
Location

Device

Demographics

Formats/Content

Language

Retargeting

Frequency Capping

Competitive Separation
Impressions
PSN DIGITALradio campaigns run for three months over the digital networks yielding 15 million impressions and can be customized to deliver target audiences through selected filters. PSN will provide a final summary report of participating networks and spot air times.
As an option, additional banner ads can be added to accompany the audio spots. This will provide additional tracking and measurement capabilities using Google Analytics®.
Digital Radio Highlights
Guaranteed PSA distribution

Strong metrics and measurement

Reaches target market via digital audio PSA content and banner ads (optional) on mobile devices

Banners may be tagged for digital tracking and analytics

Digital media networking

Target by geographic location and other unique identifiers
Content Sample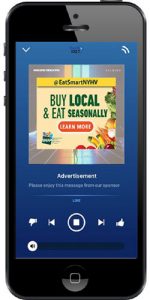 Click to see package offers for your state
Pricing terms and placement are subject to approval by the media partner based on inventory and message approval.